Prepare Yourself For ENTIRELY DIFFERENT Event Entertainment.
Brad Blaze does not fit the definition of a standard 'artist' or 'entertainer'.  In fact, television media and clients have labelled Brad as a "rockstar artist" - jumping around on stage, creating enormous paintings in just minutes.
His LARGER-THAN-LIFE persona means that it's an exciting, fast paced, innovative and theatrical show. Furthermore, his audience interaction and comedy make his show something unlike you've ever seen before.
On stage Brad's props are his brushes in each hand, colorful paints, spinning canvasses, fire, glitter and gold.  His latest invention is his electronic spinning easel which moves as he paints. 
Audiences will be in awe as speed paintings are made in just minutes - he has been referred to as the world's fastest painter, painting most pictures in under four minutes. Whether he is painting an iconic person, a CEO or a celebrity, an award winner, or even a company LOGO, he keeps the audience guessing as to who or what he is painting, until he reveals the subject in spectacular fashion.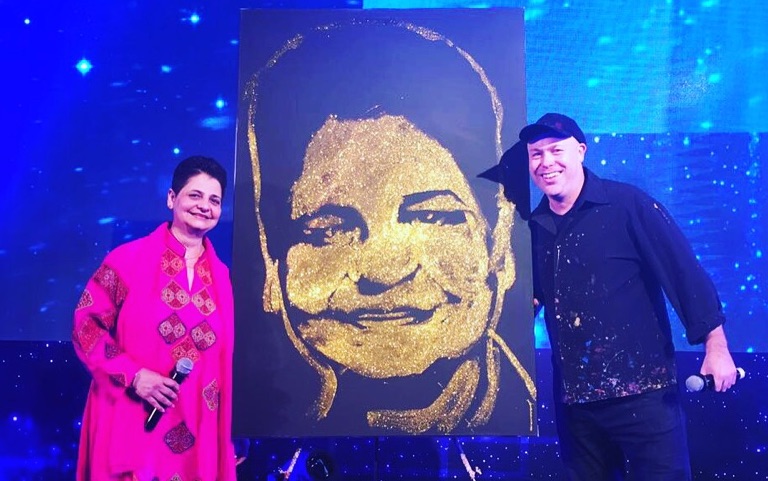 In English speaking shows, Special Events, Gala Dinners and Conferences (where showtime is at least 30 minutes), Brad adds comedy into his show, reciting humorous stories during his career or even having audience members on stage dancing.. yes it's great fun.. or he may be asked to inspire audiences about his journeys around the world, stories of some of the celebrities he has painted and how he has turned his passion of art into a trailblazing worldwide career.  
Brad's artwork serves as a lasting memory to the event.  His artwork is hung in corporate offices, given to award winners, sponsors or they can be auctioned for a company charity – his artwork has now raised over two million dollars for charities around the world.
WHERE AND HOW DO CLIENTS USE BRAD'S SERVICES?
GALA DINNERS: The majority of Brad's shows are corporate gala dinners, it's his specialty.  Brad will make your corporate gala dinner rock!  He can customise his show or has a list of shows which you can choose from (see below).
PRODUCT LAUNCH: Launching a product?  Make it unforgettable and something totally different. Brad can creatively paint the product, the logo or a slogan and 'reveal' it in spectacular style. 
AWARDS NIGHT: Brad can spectacularly reveal award winners.  
CONFERENCE OPENING: Imagine it - first day of the conference and Brad performs his Art of Music show (see details below).  It blows them away and sets the tone for a high energy day.
CONFERENCE KEYNOTE: Unlike anything your delegates would have seen before - Wow Factor, Creativity and stories of Brad's fun journey combined into a conference keynote that will inspire your audience. 
Icons of the 20th Century
Wow Factor, Inspiration, Comedy.
Relive the glitter and sparkle of the 20th century as Brad Blaze, the world's fastest painter, brings to life in paint right before your eyes some of the most influential people of our generation.  But if you haven't seen Brad before it's not just about painting – Brad creates art in unconventional ways – painting on spinning canvasses, painting upside down and using an array of props.  The show also introduces Brad to audiences, where he tells of his journey of painting World Leaders, raising money for charities and some of the hilarious situations he has found himself in onstage.
(3 paintings - email Brad for further info)
THE ART OF MUSIC
High Energy, Comedy, high Audience Involvement
Let's rock out as we take a journey through some of the world's greatest rock and music stars with entertainer of the year, Brad Blaze. With music pumping and fast action, audience members are left in awe as paintings of some of their favorite music icons are created within minutes.  But if you haven't seen Brad before, it's not just about painting – Brad creates art in unconventional ways – painting on spinning canvasses, painting upside down and using an array of props.  It's a fast paced show which encompasses comedy and some audience involvement and guaranteed to be the talking point of your night.
(3 paintings - email Brad for further info)
THE ART OF TRANSFORMATION
Wow Factor, Inspiration, Motivation.
From working in insurance to entertaining at gala dinners, to painting world leaders and celebrities, Brad talks about his fun journey over the past ten years.  Throughout the presentation you will witness two remarkable visual transformations which illustrate the ability to transform - Brad paints familiar faces and then transforms them into some of the world's greatest thought leaders.  If you want some inspiration, creativity or some motivation to change something in your life, this is the show that will blow your mind. 
(3 paintings - email Brad for further info)

"We were looking for something a little different for our entertainment at our charity fundraiser – our 65 Roses black tie ball and he certainly 'brought it' to Toronto.
His energy and enthusiasm was incredibly contagious. We particularly love that Brad involved our guests and had them up on stage, making it a hilariously fun evening.  Our phone hasn't stopped ringing with such wonderful comments about Brad Blaze and our ball. Thank you! 
"

"I just thought I'd take a little minute to say how much I enjoyed your show on Saturday night.  I know Nadia has worked with you before and had told me it was excellent – but I really wasn't prepared for how excellent it was!
The colour, movement, banter, music, participants – all  so good and the feedback we've had from the delegates who attended that evening was that they thoroughly enjoyed it, didn't know what to expect and then they were blown away.  
Oh yeah, and the paintings – I know we shouldn't have favourites (like our children) but Marilyn was mine."
- Brad has been rebooked a number of times with this client.
- Kentera Events

"Brad's performance was AMAZING!!!
The ASF and their guests absolutely loved it, huge success and the paintings were all great, but the surprise painting of Tim Hughes, outgoing Chairman of the ASF was just so incredible and went down a treat.  Time Hughes was so overwhelmed and thankful of Brad's efforts and the surprise that was, it was touching to see.
BEST ENTERTAINMENT WE COULD HAVE CHOSEN, Brad was just was the night needed, so effervescent and entertaining."
- Brad has been rebooked a number of times with this client.
- JR Event

"Brad literally 'Blaze's' across the stage to entertain and delight.  His act is beyond compare – his engagement with our audience, his infectious enthusiasm and ultimately utterly brilliant paintings are hard to articulate or sufficiently praise with words – you really have to see his act to believe it.  Brad was generous enough to donate his paintings to our charity auction – so in terms of 'bang for your buck' - Brad is brilliant value.  
He not only gave us a performance which inspired many of our attendees to send e-mails and call in praise of the evening in general – and Brad in particular – he is also such a genuine, down-to-earth gentlemen – he generously offered the audience the chance to not only engage in Q & A sessions – he also stayed on to pose for photos with individuals and his paintings by request.  
We would unequivocally recommend Brad Blaze for any event – it's hard to imagine he could disappoint. "
- ASMF

"We secretly wish we had taken our art classes seriously in school when we met Brad Blaze, an Australian Speed Painter who was in town for Tampines 1's official opening last weekend. 
Man, this bloke is a genius! We were totally filled with awe as we witnessed him completing a painting in less than 5 minutes."
- Tampines 1 Singapore

"On behalf of the entire EBG network, I want to extend a huge thank you for your outstanding performance on Saturday Night at our Gala Awards Dinner. It was absolutely amazing and fresh to see something nobody had ever seen before! 
I also want to thank you for being so wonderful with the audience and so easy going- as you can imagine, it makes my job 1000 times easier to come across people like yourself 🙂
Throughout the night I had dozens of guests coming up to me and asking for your contact details and congratulating me on the entertainment choice; I can't take credit for any of it- it was truly all of your talent and work that blew everyone out!"
- Essential Brands Group