ABOUT
FROM ARTIST TO ENTERTAINER: THE BRAD BLAZE SUCCESS STORY
BIOGRAPHY
If you want an impressive and entertaining speaker or talent for your next event, you can do no better than Brad Blaze, often touted as the fastest portrait artist in the world. He regularly provides entertainment and keynote presentations at various corporate events all over the world, and can truly wow a crowd while getting them involved in his performance at the same time.
Brad began his career working for an international finance company, but he always loved to draw, and was uniquely capable of doing so quickly. He developed his speed-painting show in 2006 and has since worked with some of the top companies and individuals in the world.
His show centres on his ability to quickly paint large portraits of iconic individuals in a unique way - painting subjects upside down, transforming paintings from one subject to another and using fire, glitter and gold in his performances.  He does such paintings of celebrities and CEOS, as well as products and logos, all in less than five minutes.
Some of his most famous work includes portraits of golfers Tiger Woods, Formula 1 driver Nico Rosberg and the late Richie Benaud.  He has also painted four Prime Ministers, world leaders, Sultans and countless actors, including Eric Bana and Chris Hemsworth. As at 2016, he has raised over $2,000,000 with the sale of his artwork for charities.
One of the most original and entertaining public speakers and performers, Brad definitely knows how to not only put on a show - in entertainment shows he blends comedy and story telling into his performance, whilst as a speaker he inspires with topics on transformation and creativity. 
Brad Blaze was recently named 'Entertainer of the Year' at the prestigious Australian Event Awards and spends the majority of his time now performing throughout Australia and Asia.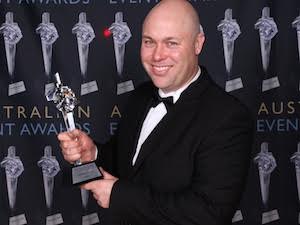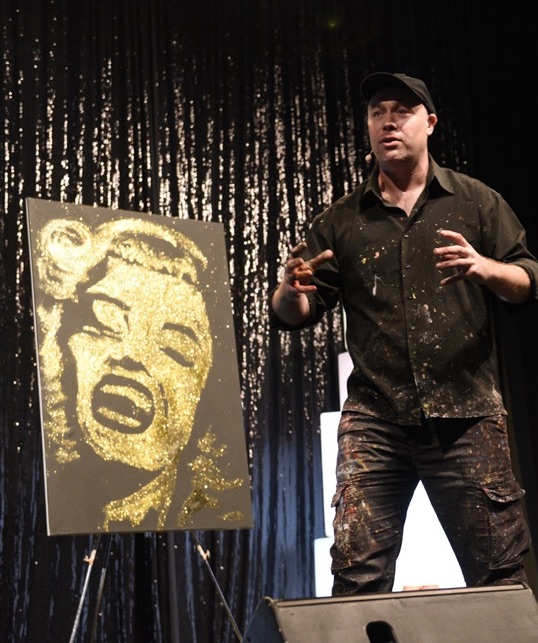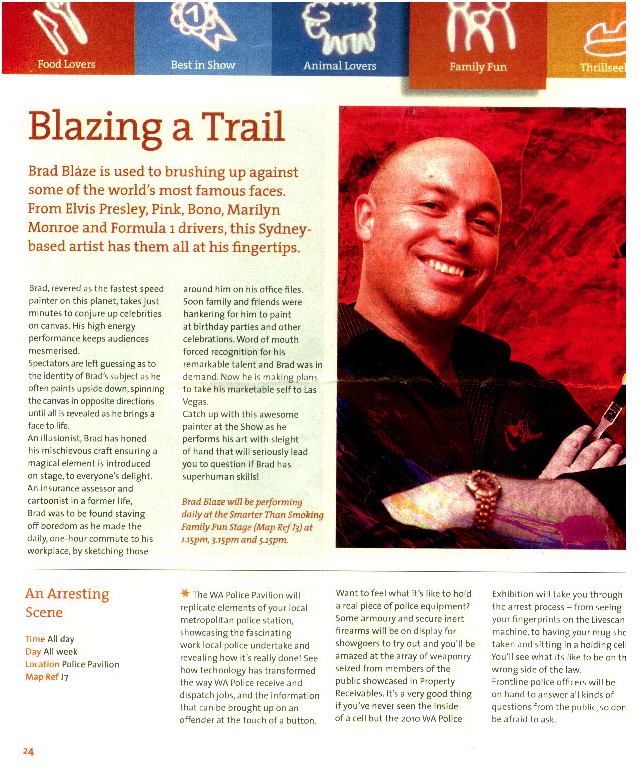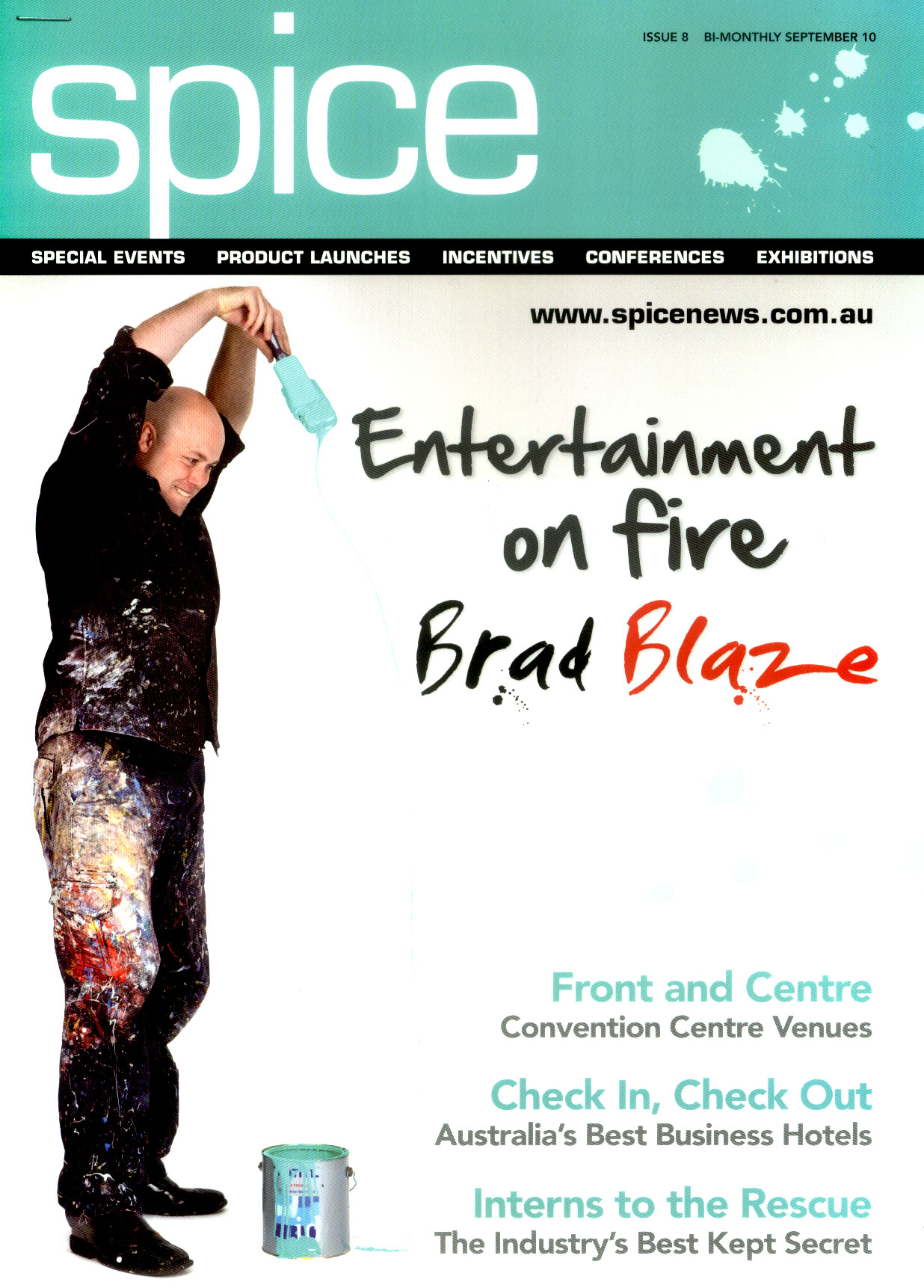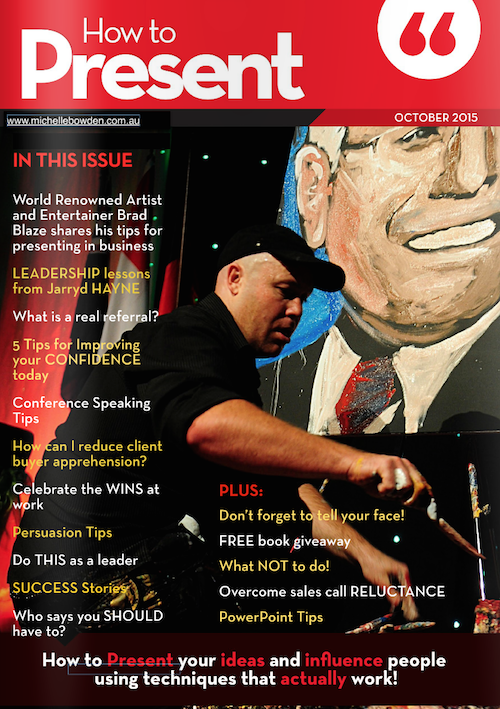 Television and Media appearances (selected)
Channel 9 Easter Appeal 2015
Today Show 2015
Perth Telethon 2014, Performance and Panelist
Weekend Sunrise 2012
Awarded Entertainer of the Year at the Australian Event Awards 2011
Micenet, Asia News, Spice Magazine cover story 2010
Perth Royal Show featured Entertainer, Perth News and Radio 2010
Music Jungle, The Shak, Saturday Disney, The Circle 2009
Fiji Showcase featured Entertainer, Fiji News and Radio 2008
Mornings with Kerry Anne (Channel 9), Mornings (Channel 7) 2008
Australia's Got Talent 2007
Keynotes and Entertainment Engagements (selected from 2016 to 2010)
Headline Entertainment Act for Queen Mary 2 and Queen Victoria cruise ships 2016
Tag Heuer worldwide launch of ambassador Chris Hemsworth 2016
Worldwide launch of Venetian Macau in China, Japan, India, Taiwan and South Korea 2016
Roadshow for Marina Bay Sands in Japan, Singapore, Australia 2015
Empire City launch with Paris Hilton, Kuala Lumpur 2015
Open Minds Conference, Keynote Speaker, Oman United Arab Emirates 2014
Variety Childrens Charity, World Conference, Las Vegas 2014
Bali 10 year anniversary gala with Prime Minister John Howard 2012
PGA Masters Gala Dinner Entertainment with Tiger Woods and Shane Warne 2011
Astellas Pharma, twelve shows during National Pharmaceutical conference San Francisco 2010
Tampines 1 Launch event and first public shows in Singapore 2010