Spectacular Entertainment AND The Benefits Of Auctioning Off Amazing Artwork For Charities.
Ronald McDonald House Charities called his performance "Breathtaking", Kids Under Cover called it "Phenomenal", the Burnet Institute commented "That it made their event unlike any other and ensured it wasn't just another boring old black tie ball!".
As well as speed painting iconic people from his repertoire (such as Elvis Presley, Marilyn Munroe, John Lennon, Luciano Pavarotti, Bono, Pink etc), Brad has painted the rich and famous charity ambassadors such as celebrities, prime ministers and sporting heroes.  Calling them to the stage to sign the completed artwork adds a personalised touch and can see the artwork sell for tens of thousands of dollars.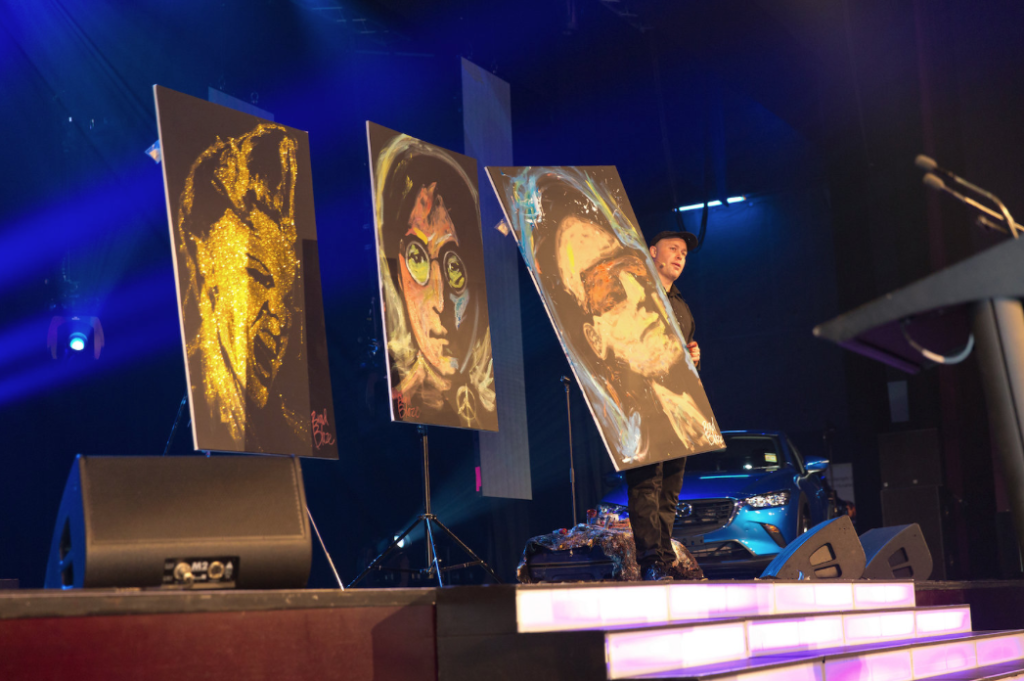 Brad Blaze's adrenilin charged performance lends itself perfectly to large charity events. Audience members get carried away in the moment of the performance and then have the opportunity to purchase the paintings during a live auction.
Brad Blaze's adrenilin charged performance lends itself perfectly to large charity events.  Audience members get carried away in the moment of the performance and then have the opportunity to purchase the paintings during a live auction.
Charity Entertainment Clients
Ronald McDonald House - rebooked 7 times
Variety Childrens Charity - rebooked 6 times (including their world conference in Las Vegas)
The Art Cabriolet - rebooked 5 times
Bear Cottage - rebooked 3 times
Starlight Foundation - rebooked 3 times
...and the list goes on.  Brad has a number of charities that use him YEAR after YEAR.  He simply changes up his show to match iconic people that are selling well and adds a new entertainment spin to the show.  You can CHECK IN WITH BRAD for latest auction results or for ideas on which paintings will work best for your charity.
TOP SELLING PAINTINGS FOR CHARITY
Hong Kong Skyline and Gold Buddha - Hong Kong 2015, $350k
Tiger Woods / Shane Warne - performed at the PGA Masters Gala Dinner, $30k
Richie McCaw (New Zealand All Blacks Captain) - sold for over $20k on three separate occasions
Brad often customises his show for charities in Asia - for instance he has painted a horse, goldfish (koi fish) and other popular chinese new year symbols which have sold for in excess of $20k.
As at 2016, Brad has now raised in excess of $2 million dollars for charities around the world.
Testimonials
Learn What Our Customers Have To Say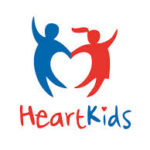 "I have been waiting to get the final numbers to email both yourself and John Blackman to say how much we appreciated having people of your professionalism and calibre at our event. 
I have to say Brad, you stole the show! You turned a standard charity event in to a night to remember. You will definitely be on speed dial ('scuse the pun!) for future events.
"
- Brad has been rebooked 3 times with Heartkids.
- Heartkids

"I just thought I'd take a little minute to say how much I enjoyed your show on Saturday night.  I know Nadia has worked with you before and had told me it was excellent – but I really wasn't prepared for how excellent it was!
The colour, movement, banter, music, participants – all  so good and the feedback we've had from the delegates who attended that evening was that they thoroughly enjoyed it, didn't know what to expect and then they were blown away.  
Oh yeah, and the paintings – I know we shouldn't have favourites (like our children) but Marilyn was mine."
- Brad has been rebooked a number of times with this client.
- Kentera Events

"Better than excellent – Brad wowed our corporate audience, he had them lapping it up, and the ability to sell his art in the end of night auction was most appreciated. 
I would recommend him to anyone who is looking for a mix of genuine talent, humour, the ability to connect with the crowd and who takes pride in assisting charities increase their funding.
"
- Otago Medical Research Foundation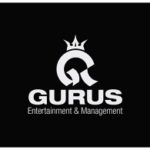 "Your ability to get the audience involved, laughing, and in awe of what you do is an Entertainment agents dream.  
It would actually be enough if all you did was just paint … but you are so much more and that's what makes you awesome.  You are reliable, enthusiastic, honest, hardworking, cheerful, dedicated, professional, witty, dynamic and super-talented.  
I love the black cotton britches you work in, and it's always such a pleasure to put you in display.
"
- Gurus Entertainment

"We secretly wish we had taken our art classes seriously in school when we met Brad Blaze, an Australian Speed Painter who was in town for Tampines 1's official opening last weekend. 
Man, this bloke is a genius! We were totally filled with awe as we witnessed him completing a painting in less than 5 minutes."
- Tampines 1 Singapore

"On behalf of the entire EBG network, I want to extend a huge thank you for your outstanding performance on Saturday Night at our Gala Awards Dinner. It was absolutely amazing and fresh to see something nobody had ever seen before! 
I also want to thank you for being so wonderful with the audience and so easy going- as you can imagine, it makes my job 1000 times easier to come across people like yourself 🙂
Throughout the night I had dozens of guests coming up to me and asking for your contact details and congratulating me on the entertainment choice; I can't take credit for any of it- it was truly all of your talent and work that blew everyone out!"
- Essential Brands Group