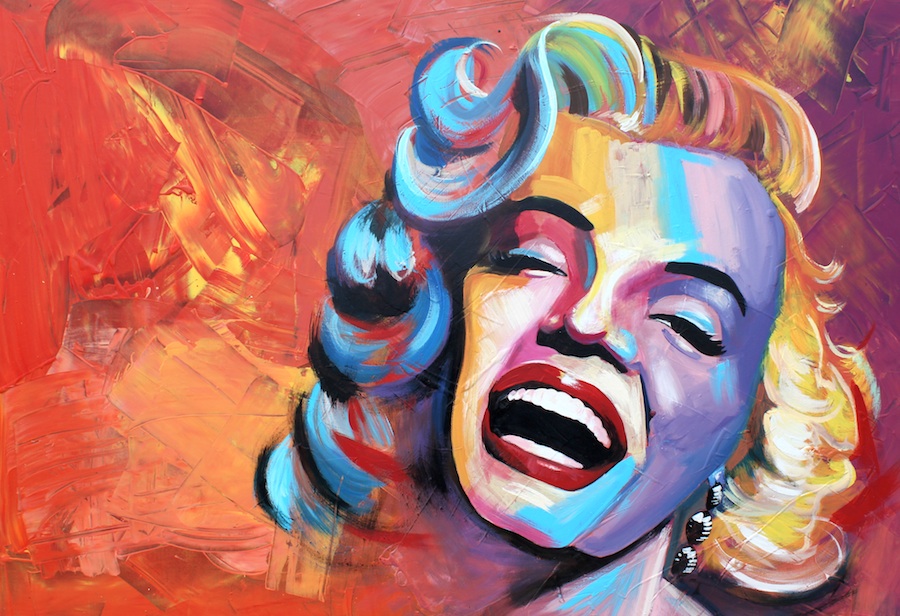 A colourful painting for a colourful life.
One of my favourites to paint on stage is the beautiful Marilyn. I wish I could cram all the colours that I have in this painting into my stage paintings of Marilyn - but it is impossible. I love the aqua blues on the orange background, one of my favourites.
ORIGINAL PAINTING
Acrylic Painting
High Quality 1 1/2 inch canvas
Includes a Certificate of Authenticity

SOLD
Price Includes Delivery



SIZE
180cm x 120cm
High Gloss Finish
Sits approximately 4cm in depth from the wall
Inspiration for the Painting
I've painted the beautiful Marilyn Munroe at many events, infact I've been doing it since around 2008 and EVERY version on stage has been this iconic pose.  She is definitely a crowd favourite at events - one of the most iconic and well recognised people in the world.
I wanted to push the boundaries though - it started in 2009 where I was performing for 1000 people in Melbourne, Australia.  I unfortunately had a slip up - the lid on my YELLOW paint had come off in my bag and had covered everything and so unfortunately I didn't have enough YELLOW for her hair.  So onstage during my keyote presentation I made a POP art version of Marilyn with blue and hot pink hair - something similar to Andy Warhol.
Following this I returned to the studio and decided to experiment more with colours - who needs to stay true to colour when it is art?  So this colourful Marilyn was born.  It was featured at ART SYDNEY.  
It's been on my wall for a few years, it has been coated with a special lacquer which gives it to the equivalent of fifty times the shine of a normal painting, but it's time for a new piece now.