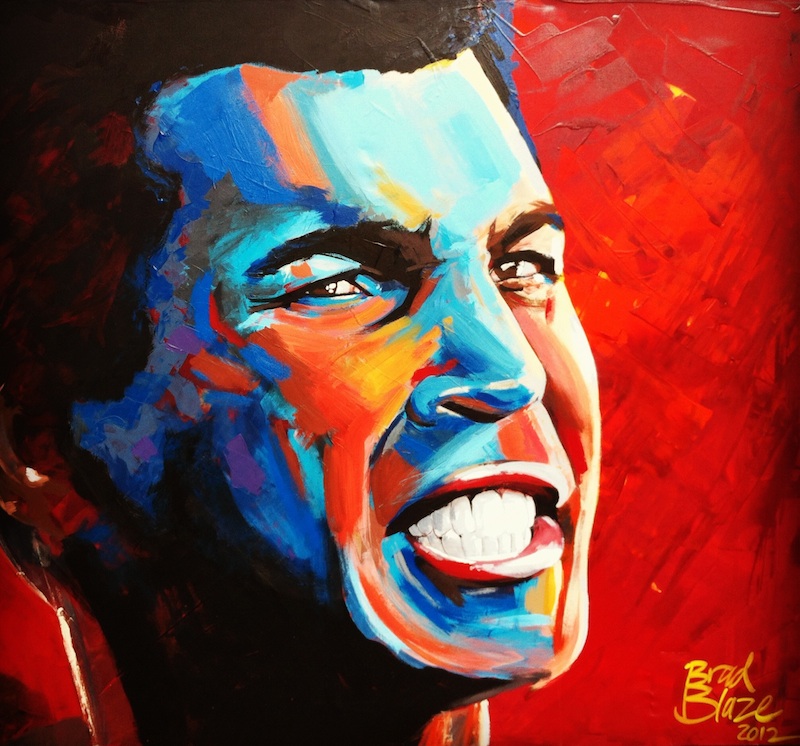 A place in the history books as "The Greatest"
Another icon in the colour series has this unique painting of Mohammed Ali in bright reds and blues. It looks fantastic and would definitely suit a man cave!
ORIGINAL PAINTING
Includes a Certificate of Authenticity
Can be coated in a matt or gloss finish

Price - $ 4000/-
Price Includes Delivery
No Prints or Reproduction
Includes a Certificate of Authenticity


SIZE
150cm x 100cm
Artwork is on a quality canvas, ready to hang
Protrudes to a depth of 4cm from the wall

Inspiration for this painting
I would go so far as to say that Muhammed Ali is THE most recognised athlete ever.  My first experience travelling and performing was when in 2008 I was selected to perform at Fiji Showcase infront of an estimate 40,000 people.  During a crazy week I painted "The Greatest" nearly everyday to a mix of Rocky music.  It sure had the Fijians excited.
This painting was made with Acrylics in 2012.  Please be aware that it has a slight tear in the canvas which has been repaired.